Events • homepage
Jardin Urbain 2019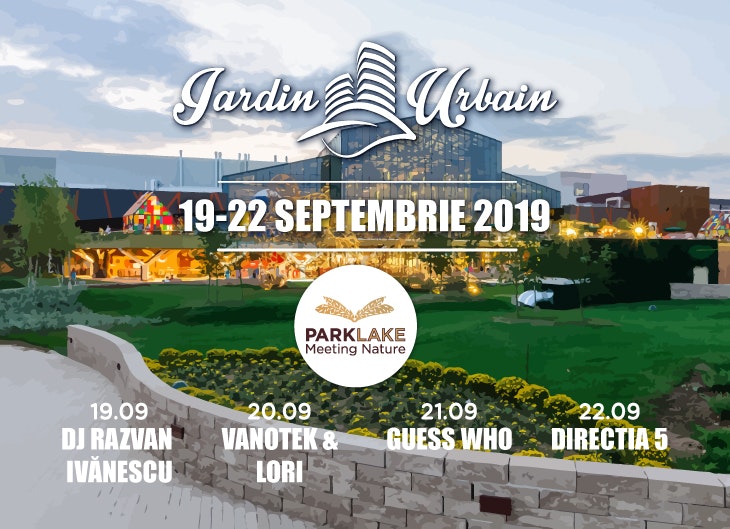 Live music, delicious food and lots of fun activities for your whole squad: between September 19-22, ParkLake hosts the third edition of the Jardin Urbain festival on  ParkLake Garden and you're the special guest!
Organized by Bonheur Festival and hosted by ParkLake, Jardin Urbain proposes for the third consecutive year an amazing culinary line-up: I, Bubble Waffle, Baz Bistro -, Burgers & Pizza, Duma's VAN, Cot on wheels, Flameburgers by Meat Busters, Lazy Duck, Meat Busters, Satisfry, The Bun – Fusion Food, The Bus Specialty Coffee, Vice Cream, Zobuian.
The culinary delights will be accompanied by tailor-made music. Guess Who, Direction 5, Vanotek and Lori and DJ Razvan Ivanescu will go on stage for live, memorable concerts that will definitely spice up the atmosphere.
Don't miss any of the four festival days that will give you tasty experiences, perfect for the beginning of a lovely autumn.
Access to the event is free for all participants.
CONCERT SCHEDULE:
Thursday, September 19 – Dj Razvan Ivanescu, 9 PM
Friday, September 20 – Dj Razvan Ivanescu – VANOTEK & LORI, 9 PM
Saturday, September 21 – Dj Razvan Ivanescu- GUESS WHO, 9 PM
Sunday, September 22 – Dj Razvan Ivanescu – DIRECTIA 5, 9 PM
FOODTRUCKS PROGRAM:
Thursday, September 19: 4 PM – 11 PM
Friday, September 20: 4 PM – 11 PM
Saturday, September 21: 11 AM – 11 PM
Sunday, September 22: 11 AM – 11 PM
Publication
06 September 2019