Events • homepage
ParkLake hosts for the first time AstroFest2019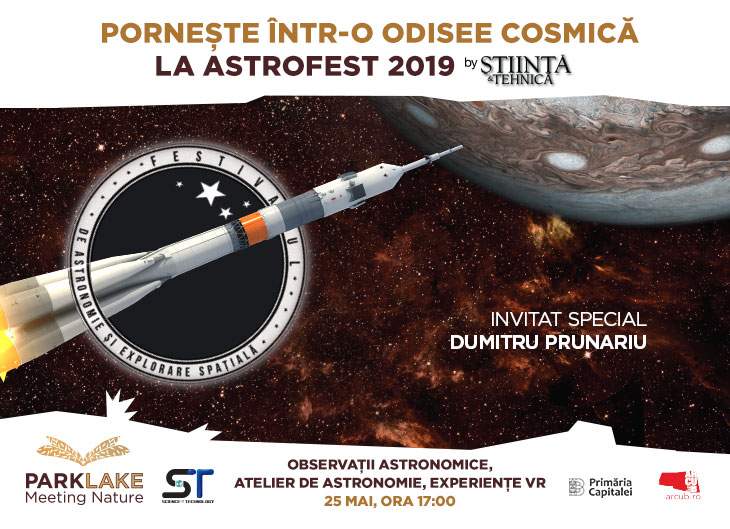 ParkLake Shopping Center will host on the 25th of May AstroFest2019 scientific event. Starting at 17:00, citizens from Bucharest are welcomed in ParkLake Garden, to admire the stars and to find out more about our solar system. During the event, participants will be able to test telescopes brought for astronomical observation, will experience the flight with Eagle module in virtual reality, or will see the astrophotography exhibition along with the Terra model in huge sections. The event is organized by "Stiinta si Tehnica" magazine, all with the support of Bucharest City Hall and the ARCUB Center.
Activities for all ages
All participants, regardless of age, are invited to enjoy the unique experiences on the occasion of AstroFest 2019. Twenty telescopes will be directed to astronomical objects more or less known to the general public. The astronomical observations start at 17:00 with the Sun, and once the darkness falls you will be able to admire the stars, guided by professional astronomers.
In addition, various exhibitions will be part of the event. The audience will thus be able to enjoy extremely interesting information about Terra through images and a huge layout, while the telescopes' exhibition will certainly answer to many curiosities about how they work and how they are used. Also, wireless demonstrations of the MEADE LX850 telescope will be fully automated and prepared for astrophotography.
The audience will also be able to test a unique experience in virtual reality. The VR simulation begins with the take-off of the Apollo 11 spacecraft and follows all the flight stages. For those who have not experienced virtual reality so far, flying with the Eagle module will surely be memorable, moreover so they can finally say at the end that they set the foot on the moon with Neil Armstrong!
From AstroFest 2019, of course, will not miss scientific experiments. At the forefront will be the Astronomy Workshop, specially developed to be meaningful to everyone, but many other experiments are waiting to be discovered at the event.
Meeting with Dorin Dumitru Prunariu and performances on stage
It's been 38 years since the great Romanian space adventure – the Soyuz 40 mission. About this, but also many others will tell at AstroFest 2019 the only Romanian spaceman – Dorin Dumitru Prunariu. Together with him, the journalist Alexandru Mironov will also get on stage. The two will discuss about the future of space, about the perspective of moving on other planets, and about the space flight.
The AstroFest 2019 event will also include children's shows, an astronomy knowledge competition for kids and many interactive games.