Events
Live the HOTEL TRANSYLVANIA experience for the first time at ParkLake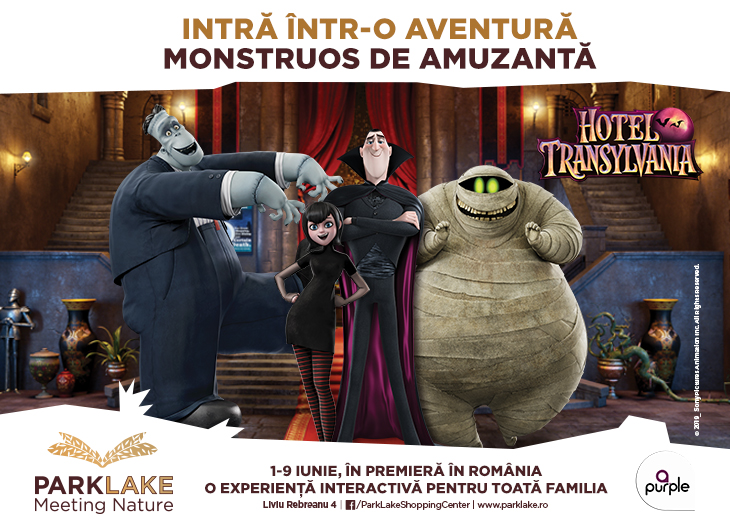 Between 1st and 9th of June, ParkLake brings, for the first time in Romania, a fun and memorable experience for the whole family. The interactive and educational exhibition HOTEL TRANSYLVANIA aims to entertain both children and their parents through games and themed activities, thus creating a great opportunity for them to spend quality time together and to build memories alongside their favorite characters.
June is the month of the children, and at ParkLake Shopping Center, it begins with fun, emotion and healthy values about family and friendship. The young ones are waited, together with their parents, to enjoy nine days of freakishly funny adventures alongside the HOTEL TRANSYLVANIA characters. Dracula, his daughter Mavis and their best friends – Frank and Murray – invite the audience to enter into a scary but funny setting.
From June 1st to 9th, daily, between 12:00 and 20:00, the beloved characters greet their guests with a stunt right inside the HOTEL TRANSYLVANIA. The little ones will be able to show their courage in tunnels prepared for them, to escape from them and to prove they deserve to be accepted as guests of the Hotel.
Creative and interactive workshops, adventures, surprises, fun and a thematic photo corner are part of Dracula's successful recipe for hospitality. In the unique experience are included distinctive decorations, bold puzzles, special effects with lights and sounds, surprise factor games, hidden codes, keys, obstacles and secret doors. All these are waiting to be discovered and experienced by the most courageous children, and the stunt trail can only be concluded with the recognition of the merits of the small participants. In addition, the well-known HOTEL TRANSYLVANIA characters will also show up for the photo session, so that their guests have proof that they have really met their favorite "monsters".
This year, childhood is celebrated at ParkLake with nine days of unprecedented fun and amusing funny adventures at HOTEL TRANSYLVANIA. The event takes place in the Main Square area, on the ground floor of the shopping center, and the entrance is free.
DAILY SCHEDULE
From 12:00 to 20:00:
Creative workshops
Tunnel escape
Special photo corner
Interactive experiences for the entire family
Meet your favorite characters in the famous film HOTEL TRANSYLVANIA (Dracula, Mavis, Frank and Murray)
14:00 – 14:20
16:00 – 16:20
18:00 – 18:20