Events • homepage
GreenTech Film Festival 2019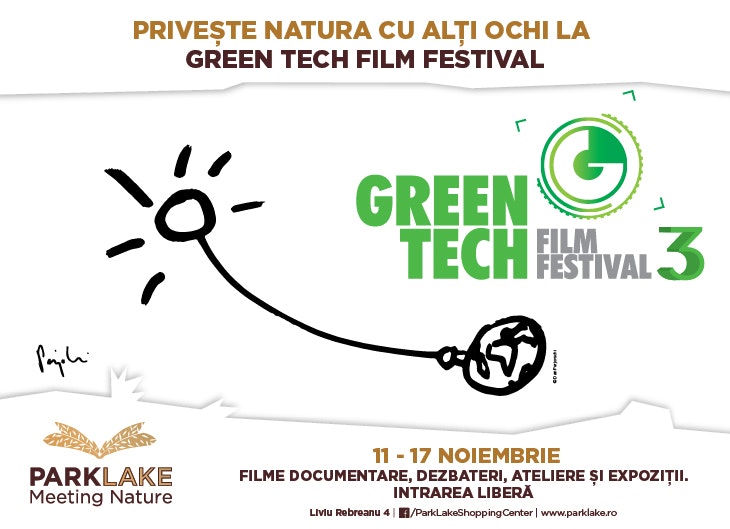 Green Tech Film Festival – the education platform that promotes a sustainable lifestyle, a care for the environment and the existing green technologies, through documentary films, debates, workshops and exhibitions – returns in November 2019 with a new edition dedicated to Bucharest audience.
The events included in the agenda of the third edition in Bucharest take place between 11-17 November, at Park Lake Shopping Center ( main square area and cinema).
This year's edition is organized with the help of the embassies of the Nordic Countries – Sweden, Norway and Finland- European leaders in innovation, in the implementation of sustainability policies, and in supporting and financing programs which are promoting innovative technologies to combat climate change. The agenda of the festival includes events that transpose examples of good practices of these countries, through screenings of documentary film, debates and exhibitions. The festival also includes activities for children: animations, games, workshops on internet safety, creative waste recycling, and robotics.
For the first time in Romania, two documentary films produced by Patagonia, one of the most respected brands in the world because through its actions it manages to raise public awareness about environmental issues and climate change, will be presented: "Blue Heart" – which documents the fight to protect Europe's last wild rivers and draws attention to a potential environmental disaster – and "Artifishal" – which tracks the impact of fish farms and hatcheries on wild salmon reserves around the world.
The festival agenda is available on www.greentechfilmfestival.ro.  A wide presentation will be made at the press conference on November 6, 2019. The access to all of the events included in the festival is free and it is based on online reservation at contact@greentechfilmfestival.ro.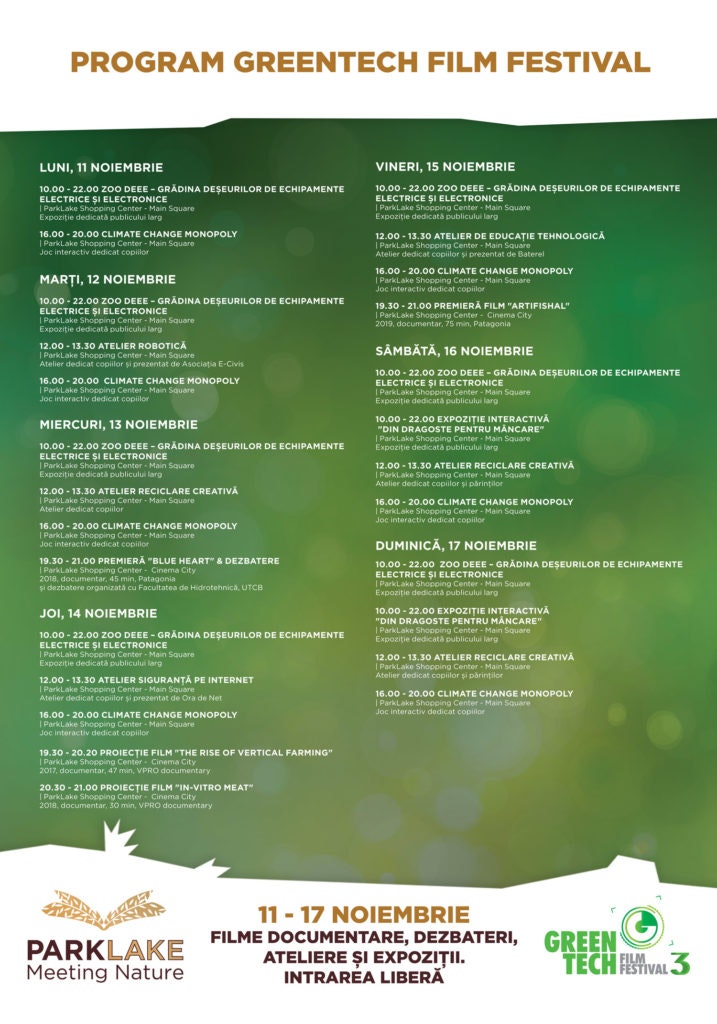 …
GreenTech Film Festival is a concept launched by the Media Image Factory, an agency specialized in the development of projects and initiatives with social impact, and the third edition takes place with the support of the Embassy of Sweden in Bucharest, the Embassy of Norway in Bucharest, the Embassy of Finland in Bucharest, The Institute of Norwegian Film, Innovation Norway, Faculty of Hydrotechnics, (UTCB), Bucharest Youth Center, Cluj-Napoca City Hall, Dacia Cinema, ARCUB, Bucharest City Hall.
Publication
01 November 2019