Events • homepage
The European Squash Championship at ParkLake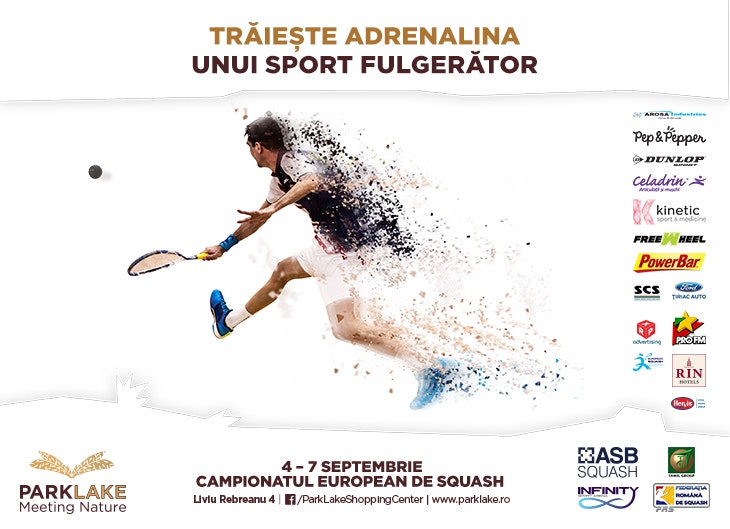 Between September 4th and 7th, the Romanian Squash Federation will organize the most important squash tournament: the European Championship. Athletes from 20 countries will play both in the Infinity Sport Arena and ParkLake Shopping Center, fighting for the continental title.
We will be pleased to follow performing live at Bucharest the international squash players Raphael Kandra (Germany, 27th place worldwide), Nicolas Muller (Switzerland, 28th worldwide), Borja Golan (Spain – en-title champion), Nele Gillis (18th place in the world) or Tine Gillis (27th place worldwide).
Romania will be represented by 12 players: Vasile Hapun, Bogdan Vasile, Andrei Luchian, Radu Pena, Dumitru Goian, Cristian Drăguşin, Kincso Szasz, Alexandra Marcu, Andreea Ghiorghişor, Consmarie Rădulescu, Nicoleta Ştefan and Nikole Szabo.
The tournament will begin on Wednesday, September 4th, at Infinity Sport Arena, and from the quarter-finals the tournament will move inside ParkLake Shopping Center. Access is free for both locations. In addition, viewers may participate at a raffle with many surprise prizes.
Squash has been declared by Forbes magazine the healthiest sport in the world and helps you burn 1000 calories per hour!
Here you will be able to track the competition tables and results daily: https://esf.tournamentsoftware.com/sport/draws.aspx?id=2DEA849E-C0C4-49C9-BFCB-6F2DD6B12034
Partners:  ParkLake, Infinity Sport Arena si European Squash Federation
Main sponsors:  Tawil Group, ASB Squash, RXP Advertising
Sponsors:  Tiriac Auto, Ford, Celadrin , Rin Grand Hotel, Pep&Pepper, Kinetic Sport and Medicine, Arosa Industries, Schinkel Conferinte Solutii, Powerbar, Hervis, Freewheel, Eboda
Media partner: Pro FM
Publication
22 August 2019