Events
Discover the paddle court at ParkLake!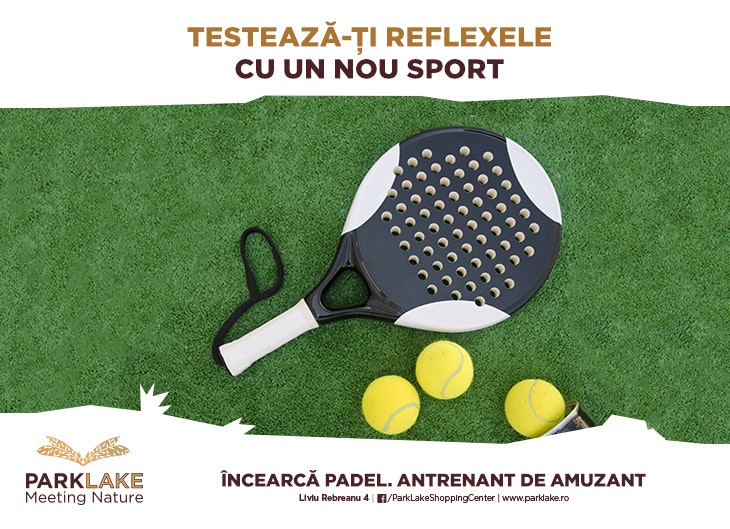 PADDLE RULES AND INFORMATION
In order to ensure your safety, we require that you read and respect the following rules:
BOOKING SYSTEM
1. Operational hours:
Monday – Sunday: 10:30 – 21:30
2. Bookings with at least 24 hours ahead at ParkLake info desk located at the ground floor or by phone at 0757 353 014.
3. The users who are unable to turn up for their session of play must inform the info desk or by phone at 0757 353 014, before the playing time (at least 30 min before).
4. In case of no shows, the booking hour will automatically be forfeited after 10 minutes, on a first come, first served basis.
COURT USE RULES
1. Please use only Paddle/Tennis shoes! No other shoes are allowed!
2. Please, be informed that the surface of the court is slippery! Use Paddle court at own risk!
3. Do not abuse net, glass or other equipment.
4. No smoking, food and alcohol drinks are allowed in the Paddle court.
5. No bicycles, roller blades, skate boards or other mobile accessories that could damage the court or the player's safety are allowed.
6. The users will be responsible for any damage caused by their guests or themselves. Any damage caused by the previous users must be reported at the info desk immediately before beginning the game, in order to avoid a penalty.
7. Please return the equipment to the info desk in the same condition as you received it, otherwise you will have to pay for the damages (between 115 RON and 450 RON, depending on the chosen equipment).
8. ParkLake is not responsible for the lost or forgotten objects.
ENJOY YOUR TRAINING & REACH YOUR GOALS!
Publication
29 March 2019