News
This Easter, at ParkLake it is in your nature to offer great presents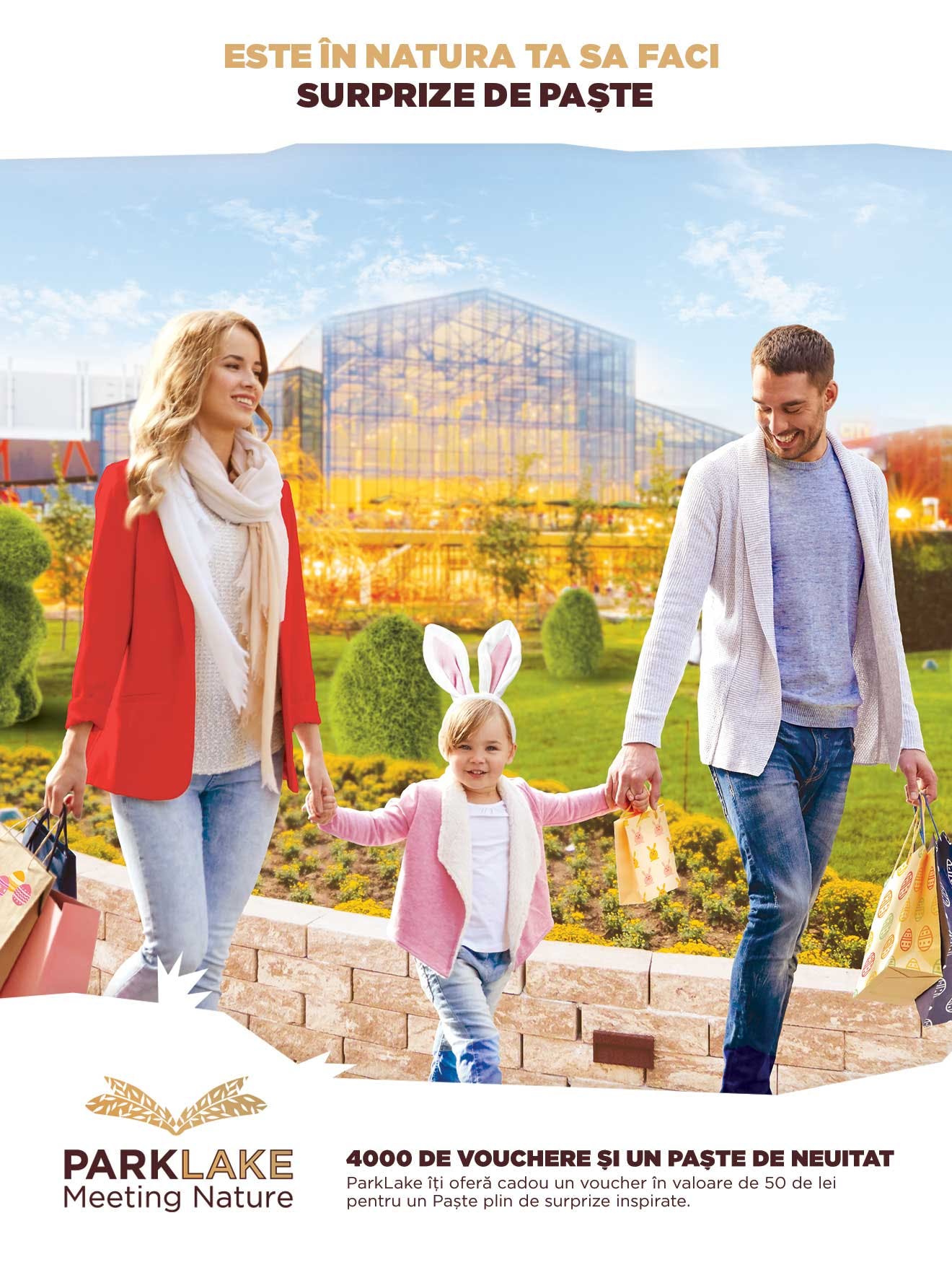 This year, ParkLake marks the Easter holiday through the campaign "It is in your nature to make Easter surprises".
Between April 7th to 14th, the "spring fairies" will spread 4,000 shopping vouchers totaling 200,000 lei. Those lucky enought to  meet the spring fairies of ParkLake during this period will receive a shopping voucher worth 50 lei, which can be used in over 120 partner stores in the shopping center.
Vouchers are valid from April  20th to May30th, when our shopping center welcomes its visitors with lots of surprises and special offers.
Stores participating in the campaign "It is in your nature to make Easter surprises" are: Aldo, Animax, Anna Cori, Aqua, Atelier Retus, B&B Collection, Be in Time, Benvenuti, Bershka, Big Step, Bigotti, Braiconf, BSB, Caramel, Carolina Boix, Carturesti, CCC, Cellini, Chopstix, Cinema City, Claire's, Clarks, Collective, Corner Tree Café, Cropp, Desigual, Dinner Food, Dinoland, Douglas, Ecco, Format Lady, Brands for Kids, Flormar, Garkony, Gatta, Geox, Gerovital, Gett's Color Bar, Gherasos, Gloria Jeans, Greyder, Handsome Monk, Hans & Hannes, Hervis, Hilfiger Denim, House, Il Passo, Intersport, iStyle, Jolidon, Kendra, KFC, Kultho, La Pridvor, Lanidor, Lee Cooper, LEGO, Leonard Collection, Levi's, Luxury Gifts, Lynne, Macho Piciu, Massimo Dutti, Maxy Toys, Media Galaxy, Meli Melo, Meli Melo Deco, Melkior, Mohito, Mothercare, Motivi, Neby, New Balance, Nike, No Mas Vello, Nobacco, Okaidi, Oni's Accessories, Optiplaza, Orange, Orange Optic, Organza, Oxette, Oysho, Parfois, Paul, Pepper, Pimkie, Pizza Bonita, Pizza Hut, Play Park, Police, Prenatal, Primigi, Pull&Bear, Punkt, Pupa, Reserved, Sabon, Sabrini, Salamander, Second Cup, Secuiana, Sensiblu, Sephora, Sinsay, Skechers, Smyk, Sofiaman, Splend'or, Springfield, Starbucks, Stradivarius, Suvari, Swarovski, Coccodrillo, Teilor, Forever 21, Tezyo, Triumpf, Timeout, Tom Tailor, Top Shop, U.S. Polo Assn, United Colors of Benetton, Vans, Various Brands, Viggo, Women's Secret, Wu Xing, Yamamay, Yellow Print, Yves Rocher, Zara, Zara Home, Za-Za.
Campaign regulation is available here.