In February, love comes naturally at ParkLake!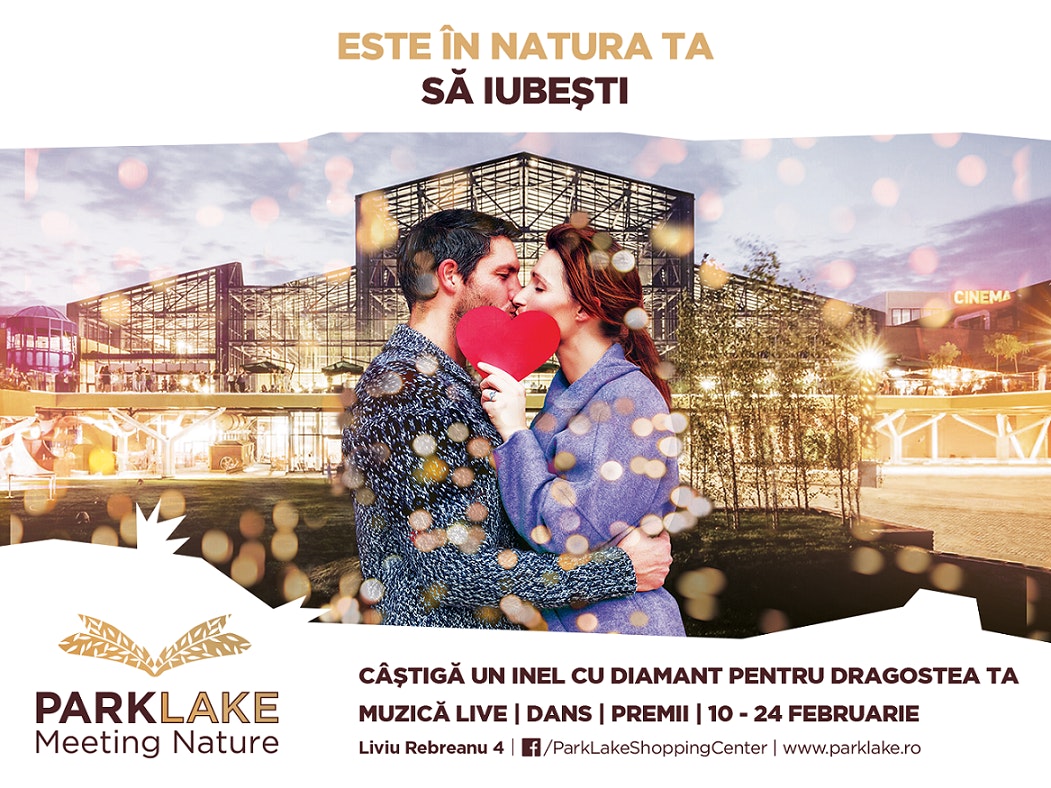 On Valentine's Day, ParkLake Shopping Center and Pro FM invite all lovers  to compete for winning a diamond ring, placed in the middle of a huge heart of ice located in the shopping center. Visitors who join our campaign during February 11 to 13 can earn the 5.400 lei Salvini   ring offered by Kultho.
The lovers have to melt a heart of ice more than 2 metres high  in order to win on Valentine's Day a diamond ring for their partner and another prizes  offered by  partner stores.  Visitors can enter the competition February 11 to 13, in the shopping center; to participate, they have to estimate  the hour and the minute when the heart will melt. The person who guess or is closest to the correct answer will win the jewerly offered by Kultho on February 14.
Also, the participants who will be close to the correct answer  will win prizes offered by the sponsors of the campaign: a 1.500 lei Viggo suit, 3  World Class subscriptions, vouchers provided by Leonard Collection (1×300 lei), Il Passo (1×500 lei), Jolidon (1×200 lei), Motivi (1×600 lei) , United Colors of Benetton (3×100 lei), Dinner Food (20×50 lei) Optiplaza (3×150 lei) and 5 VIP double invitations (5×180 lei) including dinner and movie, which is an unique experience that is possible only at ParkLake Cinema City.
Live music and dance demonstrations
Also in February, those who visit ParkLake are invited to attend live music concerts and dance demonstrations. On February 11, between 18.00-20.00, dance lovers will be able to participate in a tango show organized  with the support of Association for Culture and Tango . The dance show will be accompenied by Passione Quartet which will perform  with argentine pianist Mariano Castro and Omar Mass, the ambasador of Piazzolla music on the greatest stages of  the world.
For music lovers, ParkLake Shopping Center has prepared  live music concerts. The first concert will be held on February 18, between 18.30-20.00 when Emma Stefan will make her entrance on the scene located in the shopping center. Live concert series continues with the Ianna's recital  on February 24, between 18.30 and 20.00, on Dragobete Day. The access at dance numbers and concerts is free, and the events will be held in Main Square in ParkLake.
Thematic photo area and gift wrapping services
Between February 10 to 14, we invite all lovers to take a photo in an enchanting area, special created for Valentine's Day. All the lovers that will take a photo in the special arranged area will receive printed photos that can be kept as a memento.
And for those who want to surprise their beloved with a pleasant surprise, ParkLake prepared a gift wrapping are. Between February 10 to 14, representants of "Romania's Scouts" Organization will wrap gifts from Monday to Friday between 16.00 and 21.00 and on Saturday and Sunday from 14.00 to 21.00.
Publication
03 February 2017